Foot Conditions
Bunion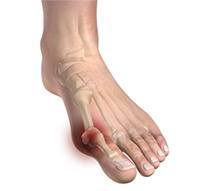 A bunion is a bony protuberance that appears on the external surface of especially the big toe, making the toe angle toward the adjacent toe. It is an extra bone and a fluid-filled sac that grows at the base of the big toe.
Foot Arthritis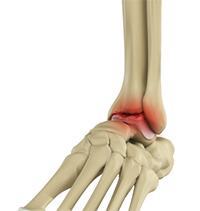 Arthritis is inflammation resulting from the degeneration of cartilage surrounding joints of bones causing pain, swelling and stiffness, and restricted movement. Arthritis of the foot and ankle joint can occur due to fracture, dislocation, wear and tear associated with aging, or autoimmune disease.
Heel Pain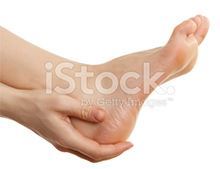 The heel is made up of the calcaneus bone and supported by a network of muscles, tendons, ligaments and soft tissues, which together support the weight of the body and stress during movement. Heel pain is a common symptom of excessive strain placed on these structures.
Foot Deformities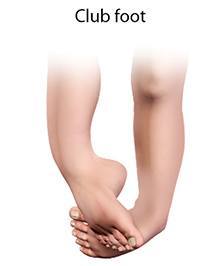 Congenital deformities of the lower limbs are developmental disorders that are present at birth, causing alterations in the shape and appearance of the legs. Several factors such as genetics, teratogenic drugs and chemicals can cause congenital deformities.
Morton's Neuroma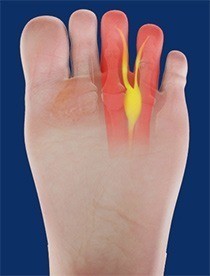 Morton's neuroma is a painful condition caused by the thickening of a nerve usually between the third and fourth toes (inter-digital nerve).This thickening results from any form of compression and irritation of the nerve, which can eventually lead to permanent nerve damage. Compression can occur from repetitive activities such as running, injury, wearing high-heeled, tapering and tight shoes, or may be associated with certain conditions such as hammertoes, flatfeet, bunions or more flexible feet.
Toe Deformities
Toes are important to our feet as they help in walking, balance, weight-bearing and other activities. Deformities in the toes can lead to pain and problems in movement. Some of the common toe deformities include:
Big Toe Arthritis
Big Toe Cartilage Injury
Forefoot Overload
Sesamoiditis
Sesamoiditis is an inflammation of the sesamoid bone and the associated tendons. It is commonly seen in ballet dancers, sprinters and basketball players. It is an overuse injury caused by an increased pressure over the sesamoid bones resulting in a chronic inflammation.
Plantar Fasciitis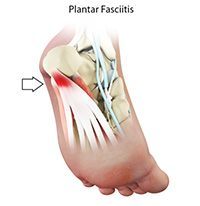 Plantar fasciitis refers to inflammation of the plantar fascia, a thick band of tissue that lies at the bottom of the foot. It runs from the heel bone to the toe and forms the arch of your foot. Plantar fasciitis is one of the most common causes of heel pain. It is most often seen in middle-aged men and women, but may also occur in those who are constantly on their feet such as soldiers.
Adult Acquired Flat Foot
Foot Fracture
The foot has 26 bones, and can be divided into 3 parts:
The Hindfoot is comprised of two bones, the talus bone which connects to the bones of the lower leg, and the calcaneus bone which forms the heel.
Freiburg's Infarction
Other Foot List